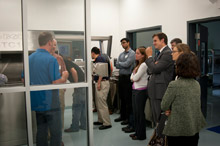 On June 7, 2012, L.B. Bohle hosted its first Tablet Coating Performance seminar at the U.S. Service Center in Warminster, Pa.  Industry experts from leading pharmaceutical companies attended the seminar, which focused on leveraging new tablet coating processes and technologies to improve operational efficiencies.
Attendees had the opportunity to learn about the critical trends and processes:
Laura Scattergood, film coating manager of North America at Colorcon, led participants on a journey of innovation in film coating based on the voice of customers. She focused on the evolution from cellulose to vinyl-based polymers in film coating, as well as how experimental design is used to identify optimal coating parameters for a highly productive coating on tablets.
Next, Sam Halaby, director of process technology for IPS, presented the hazards of combustible dusts and potent compounds. His talk covered the potential dangers associated with solution preparation and tablet coating. He also identified strategies for risk mitigation for attendees.
Process considerations for continuous coating are also a hot topic in the industry. Chris DeSantos, process engineer for Janssen Supply Group, shed light on fully and semi-continuous coating systems, including their advantages and disadvantages in design, performance and stability.
Finally, Elle Nolte, one of L.B. Bohle's process engineers, discussed how to achieve the best uniformity in functional film coating, which is a rising star in pharmaceutical processing. He gave attendees a look at new methods and process designs that achieve high-efficiency processing and high-quality products in active and membrane coating. He also offered insight into standard coating technologies versus new-generation coating machines.
In addition to presentations, L.B. Bohle engineers provided interactive demonstrations with the Bohle Tablet Coater using Colorcon coating solutions. One-on-one breakouts were available to attendees who wanted to explore specific formulas and coating techniques, as well as calculate and compare performance results of different options specific to their company's processes.