Tablet coater of the future developed by L.B. Bohle.
QbCon 1: The First Continuous Dryer on the Market
Thanks for Your Visit at INTERPHEX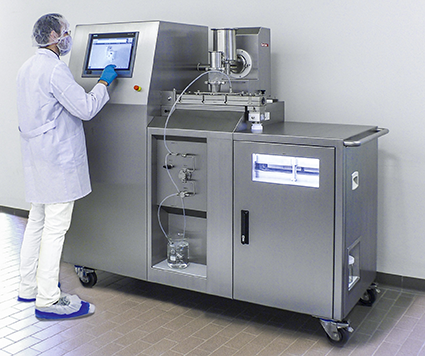 QbCon® 1 - First Continuous Twin-Screw Granulator with Integrated Truly Continuous Dryer
Continuous wet granulaiton and drying have long been a hot topic in pharmaceutical R&D and industry. However, there is currently no truly continuous fluid-bed dryer on the market that is suitable for long process times and that also meets the quality requirements.
L.B. Bohle unveiled the new R&D system QbCon® 1 for truly continuous granulation and truly continuous drying that meets all requirements for the successful introduction of continuous wet granulation.
More about L.B. Bohle´s QbCon® 1
More about L.B. Bohle´s Interphex Presentation
Pharmaceutical Film Coating of the Future
Tablet Coater BTC - Developed by L.B. Bohle
L.B. Bohle has been the technological leader for all film coating applications for more than 15 years. All Bohle coaters guarantee excellent product processing with the highest profitability.
We assert our leading role through continuous developments and patented advantages.
Benefits of the Bohle Tablet Coater:
Best coating uniformity RSD < 2%
Patented spirals: excellent mixing and careful product movement
Minimal spray losses < 5 %
Reduction of the process times due to a high number of nozzles and efficient air flow system
Same pan geometry for easy scale-up
Rapid and simple cleaning
Bohle Tablet Coater - The Economical Choice
Tablet coating with the high-efficiency Bohle Tablet Coater (BTC) guarantees up to 35-percent shorter pharmaceutical and nutraceutical processing times compared to conventional tablet coating equipment for significant cost savings and more efficient, longer running campaigns. With its high capacity, the Bohle Tablet Coater will allow manufacturers to operate with fewer tablet coaters. It's the optimal choice as a first tablet coater investment for pharmaceutical and nutraceutical processing environments.
Tablet coaters by Bohle produce the best uniformity in tablet coating while producing considerably fewer rejects and using less coating material. The tablet coater's patented tablet coater air flow bed technology eliminates spray drying to cut down on waste while lengthening campaign runs between cleaning. The Bohle Tablet Coater's unparalleled tablet consistency and high efficiency result in a high-speed, problem-free tablet coating system that meets cGMP standards.
Tablet Coater Features Include:
Smaller diameter tablet coating pan for increased coating surface
Patented mixing baffles that gently blend tablets in the coating pan
Accommodates up to 10 spray nozzles for high-efficiency tablet coating
Ergonomic tablet coater design for easy handling of tablets and coating materials